So, taking it from
Rads
.. Decided to go for
NaBloWriMo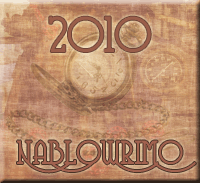 Maybe I am too late to be in it, I did the needful but still I would love to do this one for myself.
this month I intend to go for the blog-a-thon a post a day for the month of October.. it is tough to find something to blog on every single day.. not blogging for the sake of blogging but doing it so with jest and interest.. wish me good luck!!!
A few more people I would like to do this are
Renuka - Song of Life.
Chandu - Neninthe
Chandu - Vibrant Serenity and Hema.
Chandu - Allanta Doorana
Sphuritha - Naa Raatalu
Neelima - Dew Drop Dreams
Phew!! never really realized I really like and look forward to reading all the Chandus on the blog list :).
I would be glad if they can do so, 'cos I love reading them.. a few fun reads and a few on a serious note!! Go for it gang!!